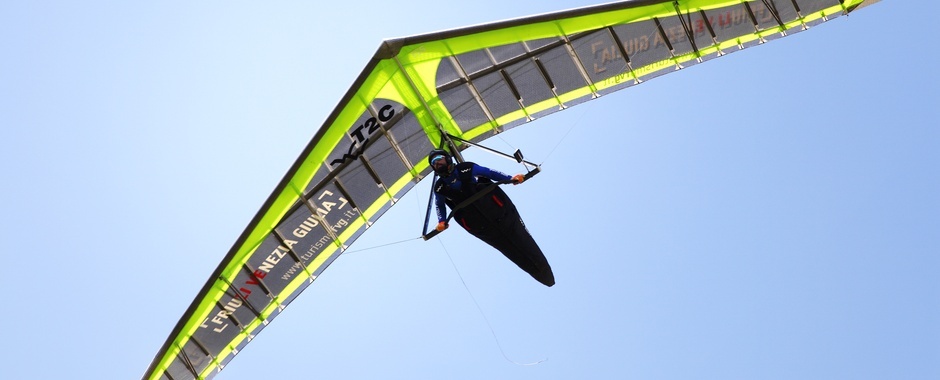 Wanneer:
april 25, 2018 – mei 1, 2018
hele dag
2018-04-25T00:00:00+02:00
2018-05-02T00:00:00+02:00
Waar:
Meduno
33090 Travesio
Pordenone
Italië

The Spring Meeting – Friuli Venezia Giulia Trophy is a FAI 2 competition which takes place in a flight zone well known by European pilots and where, in 2017, the first edition of this important competition took place.
It is also part of the big flying area which will host the XXII Hang Gliding World Championship.
The flight area is mainly in the foothill but, depending on weather conditions, it is possible to fly also in the Alps and in the flatland. There are different takeoffs; two of them are in Slovenia and can be chosen in case of changeable weather.
Besides the competition, there will be an Expo area next to the landing field and many different activities will be organized for families, friends and visitors.
Meduno is near Pordenone, in the North-East of Italy. The take-off can be comfortably reached driving along an asphalt road and it's the perfect launch site for Hang Gliding competitions. There is an unlimited area to open Hang Gliders, as well as the numbers of lines available along the amphitheatre, which rises in the west part of the ramp.
The launch site is used with winds between SE and SW.
Within 2017, a new hut very close to the launch site will be open.
Take-off VALINIS – Meduno (PN) 46.2307, 12.8064
Elevation: 980 mt ASL
Height difference: 710 mt above Landing (Castello – Travesio)
Number of ramps: 3
A round grassy mountain top free from obstacles, it offers fine start both of delta and paragliders.
Direction wind: from SE to SW
Landing CASTELLO – Travesio (PN)
Elevation: 270 mt ASL
The landing field in Travesio is highly used by Hang Gliding and Paragliding pilots coming from all Europe.
Pilots particularly like the perfect terrain conditions and the absence of obstacles, as well as the absence of strong or turbulent winds in the hours of main thermal activity.